Obituary for James Pascoe McNaul
James Pascoe McNaul, Ph.D. passed away at Renown Regional Hospital on Sunday, January 13 of liver cancer. He was 85. At the time of his passing, he was surrounded by his beloved, loving and supporting wife of 62 years, Lois Sophia McNaul (née Leuck) and his loving family.
Jim was born in Madison, Wisconsin (8/20/1933) at the Methodist Hospital as the only child of Prof. James Wilbur and Elsie McNaul (née Pascoe), his loving and devoted parents who supported and encouraged him to be whatever he wanted to be. Jim felt Madison was a wonderful place in which to grow up. He often spoke about the quality of life Madison had to offer a child growing into adulthood. He participated in many activities in the Madison area including hunting, fishing (often getting up at 4 am with his father helping him to launch his 12 ft. fishing boat and his mother making him breakfast and a take-along-lunch) and ice skating. His father was a college professor at the University of Wisconsin for 41 years and Jim, from about 8 to 12 years of age, was a "college brat", often spending time with his father when he went to the office to work on his consulting projects. While his father worked he would wander all over the Mechanical Engineering building studying (and playing on) the massive steam engines and other equipment in the laboratories. When he could, he also sat-in on classes, since most professors knew him, which he did not understand but was fascinated by the diagrams and complexity of the language. One of his favorite activities was climbing into a replica of Charles Lindberg's "Spirit of St. Louis" and working the controls while pretending he was a pilot, although he never learned to fly. He also was captain of the University and ROTC pistol teams. These experiences influenced his interest in education and the sciences for the rest of his life.
In the years before WWII his parents took him to Butte, Montana several times, where his father was born and raised and where his mother immigrated to from England as a teenager. WWII ended these trips, but he fondly remembered sitting around the fire at night with his father and mother listening to the news and plotting the progress on maps of Europe and the Far East. As he got older he did not remember the earlier trips, but the stories his father told him of his growing up in Butte with his 4 brothers and 2 sisters, made him feel like a true son of Montana. Since his father was a college professor, the family had most summers off and from 1946 to 1956 they spent every other summer in Butte where Jim spent most of his time fishing, hunting jackrabbits with his beagle, Tony, and exploring old ghost towns. With both parents being from large families, there was always something to do.
Variously known as James, Jimmy, Jim, JP and Red during his long life, he renewed himself several times and followed careers in the military, Civil Service, education and business entrepreneurship. From the time Jim was 12 until he graduated from high school he worked at a local photography store (his hobby) and a sporting goods store which paid for all his hunting and fishing equipment. He graduated from West Side High School in Madison in 1951, where he was awarded the Bausch & Lomb Honorary Science Award as the outstanding science student in his graduating class. He received his BS in electrical engineering from the University of Wisconsin where he was chairman of the Polygon Society (the engineering student governing group) for two years, an elected member of the university student senate and the KHK engineering professional fraternity. He was a "Distinguished Military Graduate" based on his standing in his four years of ROTC training. As a result, he was offered a Regular Army commission which he accepted and left Madison for the "cold, cruel world".
In May of 1956, he was assigned to Ft. Monmouth, NJ for basic training in the Army Signal Corps. While there he met Lois at the local Methodist student group and it was love at first sight. Jim asked Lois to marry him three weeks after they met and they were married in September when he received his permanent assignment to the U.S. Signal Corps Research and Development Laboratory at Ft. Monmouth. He resigned his commission in 1959, but stayed on as a civilian employee. During this period, he devoted most of his time to working on space communications systems and early communications satellite programs. He was the Acting Program Manager for the Joint DOD/NASA Syncom Program (the world's first synchronous communications satellite) during its planning stages. He also travelled overseas frequently during the planning of new frequency assignments for satellite communications, including being a member of the U.S. delegation to the international conference in Geneva to agree on world-wide satellite spectrum assignments. Jim became a member of The Institute of Electrical and Electronic Engineers (IEEE) and became a lifetime member when he retired. His activities led him to become a co-founder of The Technical Group on Radio Frequency Interference, a sub-society of the IEEE, now called The Society on Electromagnetic Compatibility, (EMC Society). In 2007 he and other surviving co-founders were invited to attend and speak at the 50th anniversary EMC conference in Honolulu, Hawaii where he and his co-founders received "Hall of Fame Awards" honoring their services to the Society. While at Ft. Monmouth, he earned his MS in Industrial Management from the Stevens Institute of Technology. When he left government service to go back to academia he was Assistant Technical Director of the U.S. Army Satellite Communications Agency.
In 1964 Jim was honored with a Sloan Ph.D. Fellowship to the Graduate School of Business at Stanford University. This was a one-year program of study for a select group of six Ph.D. students and twelve businessmen sent by their companies who met in separate classes with Stanford professors and prominent businessmen. This was a scary time for Jim and Lois. With two children and a third on the way, trying to sell their nice home in New Jersey, driving with the family across the U.S., moving into student housing and having only a student scholarship for support, the pressures were tremendous. While Jim spent most of his time on his studies, Lois had to keep the home fires burning and provide a supportive and loving environment for Jim and the children. She did a magnificent job, along with typing his school reports and his dissertation. At the end of the Sloan Program he continued on to complete the requirements for a Ph.D. degree from Stanford University. During this period, he also acted as a consultant to several major companies in Silicon Valley.
After graduation Jim looked at several jobs in industry and academia, deciding to take a position at the College of Administrative Science at The Ohio State University. It was good to get back into the academic environment and all the joys of college such as teaching, counselling students, football and socializing with his students and other faculty members. Jim taught undergraduate and graduate courses in areas related to organizational behavior and the problems of technical management. He had several doctoral students who wrote their dissertations under his supervision and received positions in major schools such as University of California-Berkeley, Harvard and California Polytechnic University. While at Ohio State, he and three other professors wrote a textbook on organizational behavior published by Prentice-Hall, which went into a second edition. Again, with everything else she had to do, Lois typed the first and second drafts of Jim's thirty percent of the book. He also contributed chapters to several other textbooks. Jim was elected to the University Faculty Senate and was Chairman of the College Master of Business Administration Curriculum Committee.
It was also in this period the family started traveling extensively, thanks to Lois' mother, who was always a ready and eager baby sitter. Lois and Jim were able to take trips both university related and personal, while the whole family started travelling around the country in their new tent trailer. These were fun times and our camping trips remain as some of our fondest memories.
In 1974 he took a sabbatical from Ohio State and accepted a postdoctoral fellowship from the National Institute for Mental Health to participate in a multi-discipline program on organizational research in the Business School and Sociology Department at Stanford University. He continued as a Visiting Scholar in the Business School for a second year while he acted as a consultant to the U.S. National Commission on Federal Paperwork, where he designed and supervised a major study on the cost and behavioral consequences of federal paperwork on small businesses.
When he completed his sabbatical, he faced a major decision. Looking back on thirty-five years of working as a kid, spending time in Civil Service and academia, he felt the need to try and put to good practice his experience and training. He stayed in California and joined a major aerospace company to get the experience of actually planning and doing, all on a budget and schedule. He continued his career over the next twenty plus years in the areas of marketing, planning and general management in high technology companies. He joined a start-up company, Datacopy, as a part of the management team that took it through an initial public offering on the stock market. Later the company was acquired by Xerox. After leaving Xerox, he continued to work with small start-ups until he and four people he had worked with co-founded a company in the high-speed data business. Jim retired in 1999 and Lois and he moved to Reno, NV near where his Grandmother on his father's side had been born in 1875 in Silver City.
Jim was an only child. Despite his father having had six brothers and sisters, his generation consisted of four only-child cousins, two of which preceded him in death, Robert McNaul and Mark Odem. He was preceded in death by his parents, and all his uncles and aunts on both sides of the family. He is succeeded by his wife, Lois Sophia McNaul, his children, James David McNaul, married to Tania of Gilbert. AZ, Dr. Nancy A. McNaul of Reno, NV and Jonathan Craig McNaul of Highlands Ranch, CO. He is also survived by his two grandchildren, James Marshall McNaul of Seattle, WA and Joshua Peter McNaul of Gilbert, AZ. James P. McNaul will forever be remembered as an incredibly decent man and a most loving husband, father, and grandfather.
A viewing will be held on Friday, January 18, 2019 from 1:00PM till 2:00 PM with a service starting at 2:00 PM at Mountain View Mortuary, 425 Stoker Ave., Reno, NV.
To send flowers or a remembrance gift to the family of James Pascoe McNaul, please visit our Tribute Store.
Previous Events
Service
Mountain View Mortuary
425 Stoker Avenue
Reno, NV 89503
A viewing will be held from 1:00 PM till 2:00 PM on Friday, January 18, 2019 at Mountain Vie Mortuary.
Cemetery Details
Location
Mountain View Cemetery
435 Stoker Avenue
Reno, Nv 89503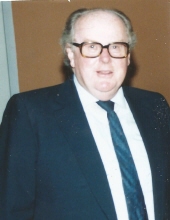 Thank you for sharing your
memory of James
Provide comfort by sending fresh
flowers from our local florist.
No thanks, please don't show me this again.